Cadaver is a four armed demon thief who stole art or artery from kernel he dies in deaths shadow he stole arte for lord loss so he could get a mouth reason of death lord loss made him explode so that his blood would go on the lodge stone.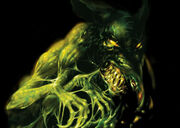 This article is a stub. Please help The Cirque du Freak wiki by expanding it.
Ad blocker interference detected!
Wikia is a free-to-use site that makes money from advertising. We have a modified experience for viewers using ad blockers

Wikia is not accessible if you've made further modifications. Remove the custom ad blocker rule(s) and the page will load as expected.